Ward Nurse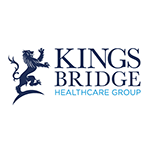 Employer Information
Kingsbridge Healthcare Group
E: recrutiment@kingsbridgehg.com
T: 028 9066 7878
YOUR CORE BENEFITS:
Excellent Salary with Annual Increments
£3,500 Sign on Bonus (Paid in First Month's Salary)
Salary Uplift after 6 Month's Probation
Enhanced Rates for Unsociable Hours
Contributory Pension Plan
25 Annual Holidays
10 Public Holidays
Private Medical Insurance
Life Assurance (4 x Salary)
Income Protection (60% Salary)
Kingsbridge Membership Club
Wellbeing The Kingsbridge Way
Free Financial Planning Advice
Development Opportunities
Relevant Training Funded by Company
Free Lunches
Discount for Family and Friends on Kingsbridge Services/Goods
Christmas Holiday Closure
At Kingsbridge Healthcare Group, we are on the lookout for talented, innovative and ambitious individuals to join our team. Our people are at the core of everything we do and are all equally committed into achieving the Company's mission of becoming a world-class provider of healthcare solutions. Our aim is to be the preferred choice for both patients and healthcare professional
About the Company:
The Kingsbridge Healthcare Group was founded in 2004 by Medical Directors, Dr Suresh Tharma and Mr Ashok Songra. Their vision was to create world class healthcare by putting patients at the forefront of everything they did, this was to become the company's mission.
From the original premises at 352 Lisburn Road (where the name 3fivetwo Healthcare was taken), the Company has expanded and has since undergone a rebrand. The 3fivetwo Group is now known as the Kingsbridge Healthcare Group and consists of the following:
Kingsbridge Private Hospital Group (Belfast, Sligo, Northwest and Letterkenny)
Kingsbridge Diagnostic and Treatment Centre – Kings Hall.
Kingsbridge Training Academy
Kingsbridge Opticians and Hearing Care
3fivetwo Healthcare
Cosmetech
Our partner companies consist of H3 Health Insurance and Cransford Insurance.
---