Student Engagement Officers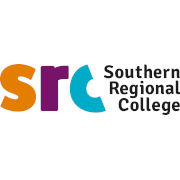 Employer Information
Southern Regional College
E: recruitment@src.ac.uk
T: 028 30259785
Southern Regional College is the second largest Further and Higher Education College in Northern Ireland. With a total of six campuses across the beautiful counties of Armagh and Down and covering two district councils, the College offers first class education and an exciting learning environment for further and higher education.
As an employer of over 900 high calibre, experienced staff, Southern Regional College has a number of wonderful developmental opportunities available for other talented people. As a College we are committed to meeting the needs of all our stakeholders through the provision of high-quality education and training opportunities.
The SRC Graduate Internship Programme (GIP) is an exclusive service enabling graduates with a real drive and enthusiasm to gain invaluable work experience and enhance their CVs. This is an opportunity for graduates to develop their skills and gain training and experience in a professional role. Our internships are paid full time roles that last 24 months. It is a new programme for recent graduates who can show they are confident, articulate, and dynamic.
We are an award-winning College, a centre of excellence for teaching and learning and can offer an intellectually and socially stimulating environment. We hope we can welcome you to the Southern Regional College in the not-too-distant future.
​​​​​​​This post is a full time position. Closing date for applications is Friday 1 July at 12.00noon.
Please note all correspondence will be sent from recruitment@src.ac.uk. Please check your mailbox including any spam folders regularly.
---