Electrician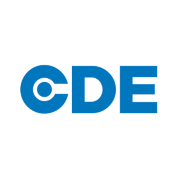 Employer Information
CDE
E: recruitment@cdeglobal.com
T: +44 28 8676 7900
About CDE
CDE exists to create our best world through bold engineering in the waste recycling and natural material processing industries. We move forward together, continuously creating to the highest global standards. We are always customer-focused, relentlessly innovating with a single purpose in mind:
To create our best world, a ton at a time.
CDE is the leading provider of wet processing solutions for the materials processing industry. Our equipment has applications across a wide range of materials and is delivering significant efficiencies in construction, demolition and excavation waste recycling (CD&E), sand and aggregates, mining, industrial sands and environmental sectors. Working across five regions globally, CDE has been co-creating with customers for 30 years to deliver collaborative, imaginative and unique processing systems for over 2,000 successful projects.
We empower our customers to transform waste into valuable resources through innovative co-creation, laying the foundations for the circular economy. And we help our customers maximise their natural resources in the most sustainable way possible – with greater efficiency and less waste than ever before.
Our people are genuinely empowered to lead and deliver highly strategic and innovative projects. Elevating our employees is vitally important to us and we do this on both a professional and personal level through providing opportunity and challenge to all and cultivating a culture that values employee wellbeing and fun. Our Platinum status in the world-recognised Deloitte Best Managed Companies Awards, achieved for thirteen consecutive years is testament to this approach.
Our global headquarters and manufacturing centre of excellence are located in Northern Ireland, perfectly positioned to serve the UK and Ireland markets. The company also has teams based in Austria, France and Russia to serve the Europe and Russia markets; Dubai, UAE, to serve the MEA market; Ormeau, Australia to serve the Australasian market; as well as Texas, USA and Belo Horizonte, Brazil to effectively serve the vast Americas market.
Learn more about CDE www.cdegroup.com
Job Purpose
To meet project deadlines and ensure that the quality of the installations are completed to a high standard.
NB. this job description is not exhaustive as other duties may be required to fulfil the requirements of the role.

---